Bradford PA Virtual 50/50
---
Simon Hahn / 22nd November 2020
---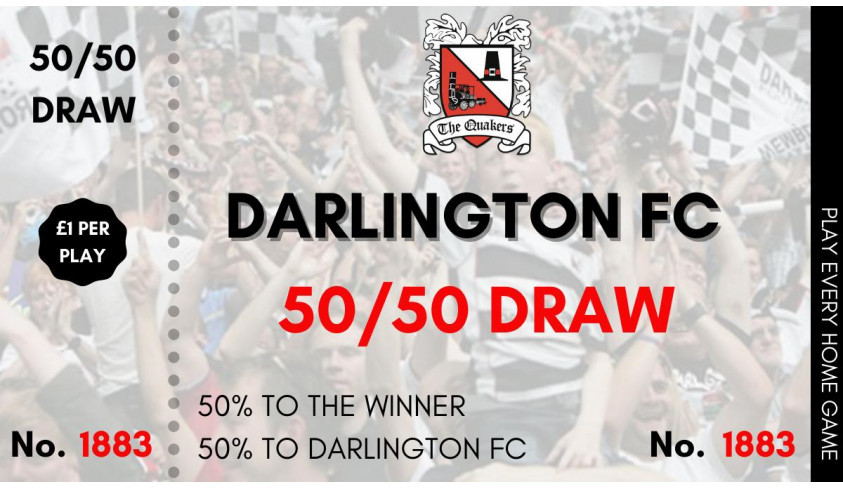 The latest virtual draw
Our last Virtual 50/50 Draw took place on Saturday 14th November at half-time in the AFC Telford game, with Andy Raine winning a fantastic £1,061. Congratulations Andy! 💰💰💰
Andy won 50% of a fantastic total pot of £2,122. Huge thanks to everyone who took part, especially off the back of Monday night's FA Cup 2nd Round fundraising activities and Tuesday's Virtual 50/50 Draw during the Boston game.
We are now selling tickets for our next Virtual 50/50 Draw, which will take place on Tuesday 24th November, when we will be entertaining Bradford Park Avenue in the National League North.
Want to play? Here's how...
Each Virtual 50/50 ticket costs £1.00, and you can buy as many as you like, as long as you're aged 16 or over.
Simply fill out the form on https://yourclub.darlingtonfc.co.uk/virtual-5050-draw and your ticket numbers will be automatically generated and mailed to you upon payment, which can be made via debit or credit card. A maximum of 10 tickets per transaction can be purchased, but you can make multiple transactions.
The winning entry shall be determined by a random number generator conducted on 24th November 2020. Entries received after 7.30pm on 24th November 2020 shall be deemed invalid.
Please make sure you read the Terms & Conditions below before you enter, and remember that you can join Virtual 50/50's Andy Clarke in becoming an Owner of Darlington FC here.
Good luck!