Mister Q
---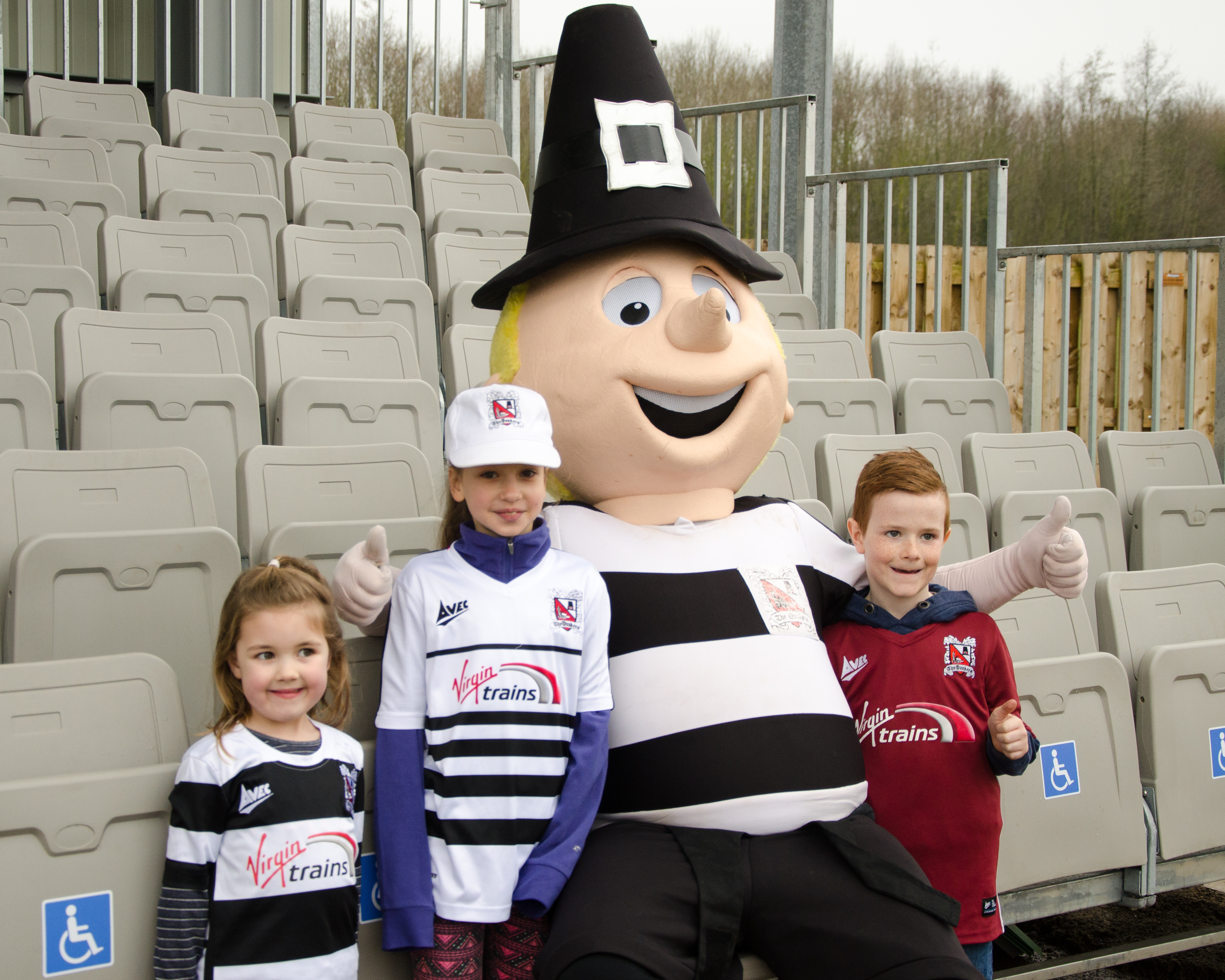 Mister Q first made an appearance in the late-90s, around the time that Feethams was being developed with the construction of the new East Stand. He was, however, famously upstaged as the club revealed a huge signing...one Billy Bubbles!
Before this period, the only reference the club had to a 'Quaker', apart from its nickname, was publications in match day programmes. Although the local evening paper, which stopped publishing in the mid-80s, used to have a cartoon-style, young Quaker 'half-a-body', complete with hat, smiling to endorse a win or with a sad face after a loss, on the front page the day following a match. A bit like a modern day smiley emoji that we now have on social media!
Following the disappointment of Billy Bubbles, Mister Q was visible pitch-side at most home games and following the move to the Reynolds Arena, he continued to greet spectators.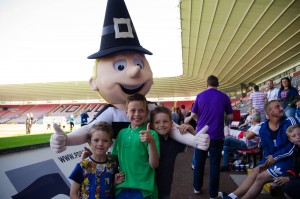 Other characters appeared during this period and entertained fans on match day - Darlo Dog and Feethams the Panda!
George Houghton, who took over the club in 2006, had ownership rights of the Tweenies and they often appeared at the ground, so Mister Q sadly fell down the mascot pecking order around this time.
During one of lowest points in the club's history, when survival was severely under question, Mister Q remained underneath the stands and, when we moved out of the Arena in 2012, he was left homeless and spent a period of time within a shipping container!
Thankfully, the character was re-branded and relaunched at our-then new home at Bishop Auckland - Heritage Park. He took pride of place once again, meeting and greeting Darlo fans and organising the guard of honour as the teams entered the field of play.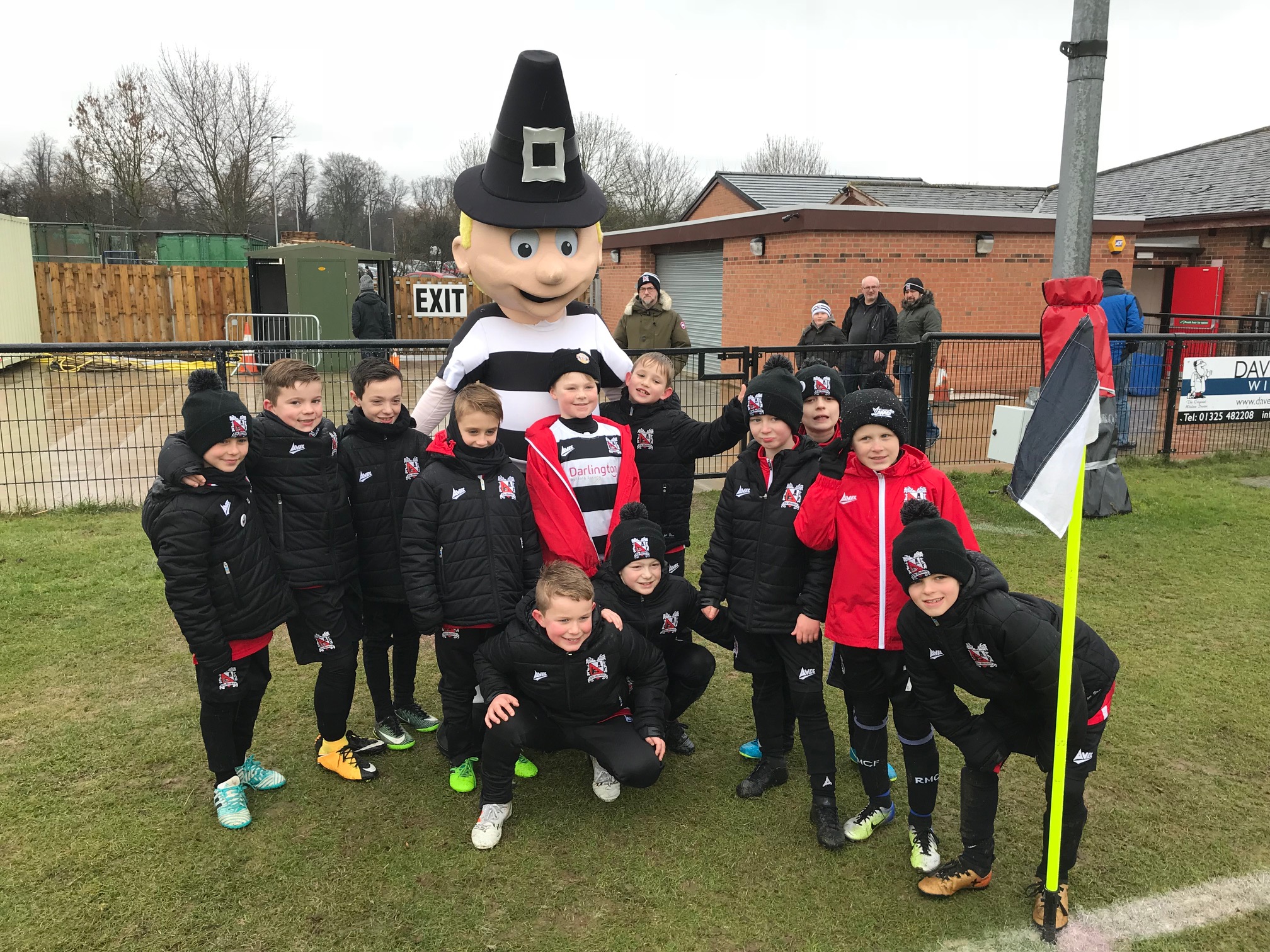 18 months ago, Mister Q made some suggestions to the club, based on a number of fan-based initiatives and regarding working more within the local community.
Junior Quakers, which had been popular in the Feethams' days, offered a training session, lunch and match day experience. The logistics of Blackwell Meadows are particularly challenging, but Mister Q looked at several options and ways in which to kick-start Junior Quakers again.
Mister Q also looked at junior supporter's birthday parties, as well as a birthday club, where junior fans are invited to submit their details and, on their special day, receive an e-birthday card from Mister Q.
Sadly, due to the timing of COVID-19, some of these activities could not be offered straightaway, but we are hopeful of resumption once things get back to some level of normality in 2021.
We did, however, launch Mini-Quakers. Our junior coaches did a fantastic job in providing a training facility for toddlers aged between 4 and 6. This activity took place every Saturday at 11am at the Eastbourne training centre. The cost was £2 per toddler. Sadly the second lockdown put a temporary hold on this activity too.
Mister Q did successfully launch new social media feeds, including Facebook, Twitter and LinkedIn. He communicates with supporters, as well as promoting club activities, both on and off the field.
During the pandemic period, Mister Q has visited sponsors, including My Sportswear, Longfield Holdings and The Head of Steam, on more than one occasion, to offer support to 'Keep the Loco' in Darlington.
Mister Q also launched an online auction to help DFC player Jamie Holmes with important surgery and rehabilitation. Due to the generosity of our fans, Jamie kindly recommended that any funds raised were passed on to other good causes. The auction generated nearly £600 pounds.
Charities that have benefited from these donations include:
- Age UK
- Daisy's Toy & Selection Box Appeal Mission