Season Tickets
---
Season tickets for the 2022/23 season are now available for sale and renewal using the form below, or in person at Quaker Retail (Mon - Fri 10am - 1pm) where you can pay with card, cash or cheque.
We're pleased to announce that the Season Ticket pricing for 22/23 is now even better value than 21/22!
As we will have two additional home fixtures next season there has been a small uplift in the total cost of the ticket, but the per game cost works our marginally cheaper. We've also increased the age limit for free child admission (with a paying adult) to under-12.
If purchasing your ticket online you can either pay as a single lump sum, or split across three equal monthly instalments. If you're looking to spread the cost of your ticket over a longer period and the convenience of not having to renew every year then our popular Pay Monthly option is for you.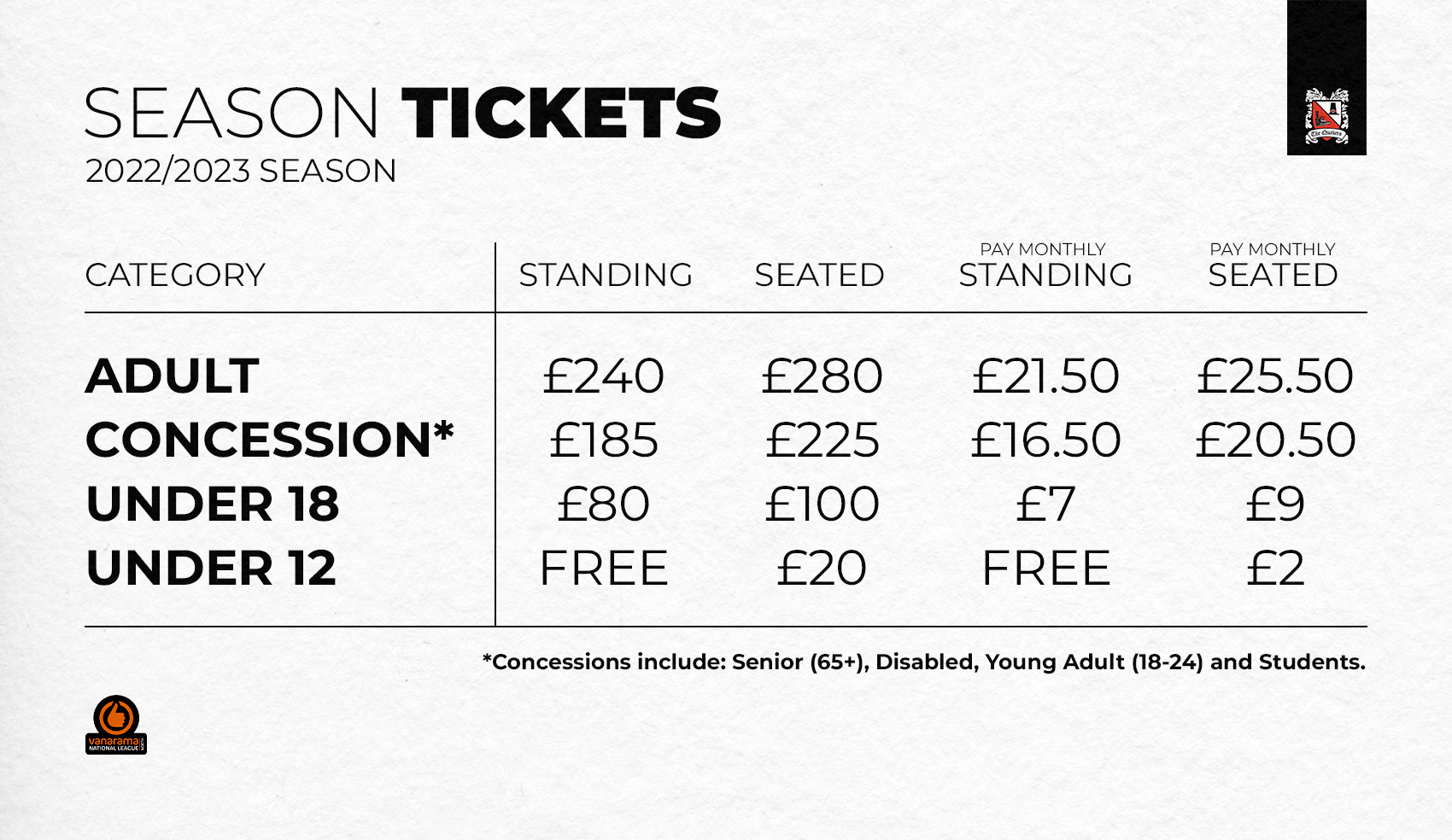 You can only purchase one ticket per Fan ID. If you wish to buy a ticket on behalf of someone else, including a free child ticket please ensure you are logged into the correct YOURCLUB account, or create one if it doesn't already exist. Child accounts can be set up using the same email address as the parent/guardian but must be allocated their own Fan ID.
All 22/23 season ticket holders who did not hold a 21/22 season ticket will be issued with a physical card and have the option of downloading a digital version via the YOURCLUB dashboard that you can store in your phone's digital wallet and use to gain entry. See the Season Cards page for more information.
Details below are pre-populated based on your account. Please review and make any necessary changes in Your Dashboard before purchasing, if you can't see any details pre-populated you will need to log into YOURCLUB. Please report any issues using the contact form.
To complete your season ticket purchase you must be logged into your YOURCLUB account.