Darlington Football Club Hall of Fame
---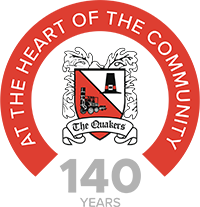 On Saturday 26th March, the day we welcomed Boston United to Blackwell Meadows, DAFTS launched the start of a project to create a Darlington Football Club Hall of Fame.
Who are DAFTS?
DAFTS
were founded back in the 1990s as a social group to bring together far-flung and exiled Darlington fans to provide suggestions for meeting up before games and help with any offer of lifts, etc. As they continued to meet at away matches, and some home matches, their friendship has grown. Over the years they have been very generous contributors to the fundraising initiatives to support the Club.
What will the 'Hall of Fame' look like?
The 'Hall of Fame' will be a physical and virtual display commemorating former players and officials of Darlington Football Club who deserve such recognition for their outstanding contributions to the fortunes of the Club.
For each 'inductee' to the Hall of Fame there will be a framed image complete with a citation. Initially, the framed images will need to be put in protective storage until such time that the Club has suitable permanent premises. Meanwhile, there will be a 'virtual' version of the Hall of Fame that will be accessible to supporters via YOURCLUB.
How will the 'Hall of Fame' be developed?
Over the next five years, the project will endeavour to populate the Hall of Fame with inductees from the Club's formation in 1883, right through to current times.
Many of the potential inductees will be from a period outside of the living memory of the current fan base. Therefore, we have a team of researchers comprising Northern Echo Reporter - Craig Stoddart, Club Media Manager - Ray Simpson and Club Historian - Frank Tweddle, who have kindly agreed to scour the record books and publications to identify potential inductees.
For the period 'within living memory', we will be asking fans to get involved by nominating those individuals that have made an outstanding contribution to their enjoyment during their times as a Darlington fan.
The 'Hall of Fame' project will be sponsored by DAFTS with support from
DFCSG
.
What happens next?
To ensure that there is proper representation across the history of the Club, the 'within living memory' part of the project will be delivered in phases. The first phase will be looking for potential inductees specifically from the 1960s.
So, if you're a fan of an age that has memories that spans as far back as the 1960s, look out for an announcement within the next couple weeks that will provide details of how you can get involved with the 'Darlington Football Club Hall of Fame'!