Harvey Madden Award
---
The Harvey Madden Award for Outstanding Contribution is presented annually at the DFC 'End of Season Awards Night', to an individual or group who has played a pivotal role for the Club across the season.
Kirsty Madden, daughter of administrator Harvey who was a key factor in saving the Club in 2012, said: "When my dad passed away in 2015, we wanted to put something in place, not just for the glory on the field, but the glory behind the field because the club would be nothing if it wasn't for the support that comes from the stand."
The inaugural winner of the award in 2014/5 was Men's First Team manager Martin Gray for his effort in guiding the Club to another promotion and into the EvoStik Premier Division.
Other previous winners of the award are:
2015/16 - The DFC Media Team
2016/17 - Glen & Mary Bowes
2017/18 - John Tempest
2018/19 - Lynn Jasper
2019/20 - Neil Raper
After two years of disruption due to the Covid-19 pandemic and no award presented for the 2020/21 season, the club wanted to do something special for the 2021/22 award.
For the very first time, Darlington fans were asked to nominate who they thought were worthy recipients of the Harvey Madden Award via submissions through YOURCLUB across April.
The amount of nominations received was very impressive and a whole range of brilliant volunteers were put forward for consideration.
The Harvey Madden Award panel, made up of David Portas, Joanne Cameron, Andy Clarke and David Steel, deliberated over every single nomination and then each suggested who they thought should take the award for 2021/22.
Despite the amazing range of options open to the panel, the decision was unanimous; both in terms of the number of nominations received for this person and the heart-felt justifications behind them. - James Charlton.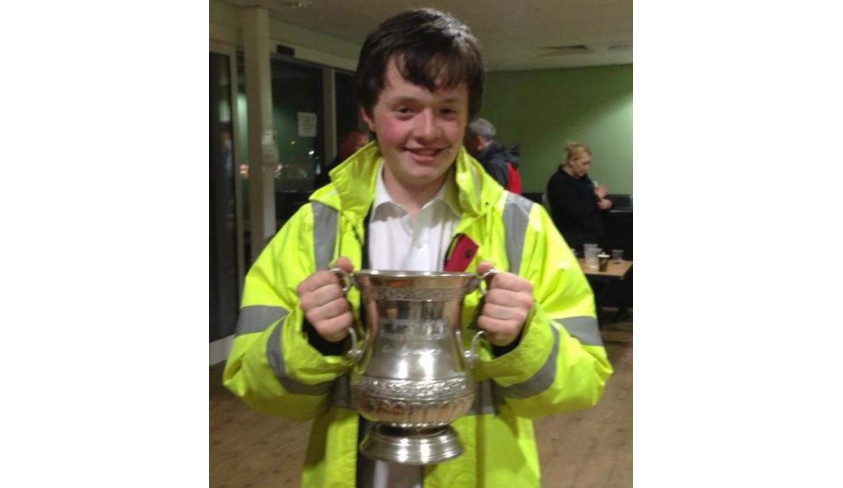 James, who tragically passed away earlier this year aged just 26, was a passionate Darlo fan from a young age and had volunteered across Quaker Retail, stewarding, social media and other areas of the club in the early days of fan ownership.
His passing shocked the Darlington FC community and his legacy will live on.
His outstanding voluntary service to the club was first recognised back in 2013 when he received the Young Citizen of the Year award from Roland Lang of Darlington Rotary Club at the Best of Darlington awards.
On Friday 20th May 2022, at the DFC 'End of Season Awards Night', James's parents Steve and Carol Charlton were present to collect the award from David Johnston. They received a wonderful standing ovation as they made their way to the stage to collect the award.
A more-than worthy winner and wonderful to see James's name inscribed on the trophy for all-time.
Thank you to everyone who nominated someone and well done to all those volunteers who were put forward for consideration.