Boost The Budget
---
And so ends another successful Boost The Budget campaign with a tremendous £136,861 raised...smashing the target of £120,000!
Although the total falls just short of the record busting £138,465 set last season, when placed in the context of the current economic climate, it feels like an even bigger achievement.
CEO David Johnston, who was the guest on BBC Tees Sport: Extra show, on what was the final night of this year's Boost The Budget, waxed lyrical about the effort and claimed: "we have the best fans in football..."
Hard to disagree with that!
The scheme had already allowed Alun to tie down key players David Wheater, Jake Lawlor, Tommy Taylor, Ben Hedley, and Adriano Moke for next season and will now provide additional scope to recruit quality reinforcements. We'll be hearing more from David and Alun in the coming days about what the sum raised means for the Club.
Boost The Budget alone has raised over £630,000 since it's inception in 2017 which is, quite simply, staggering.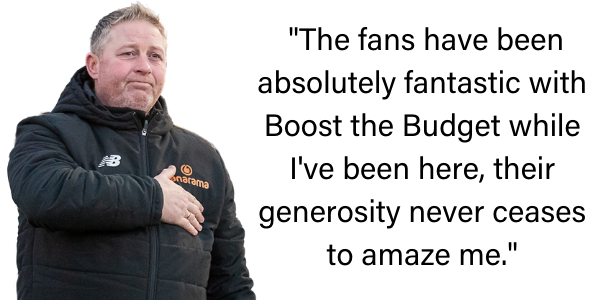 If you've been able to pledge to this years campaign then don't forget to look out for your BTB Rewards as the season gets underway (see below for details). We'll be in touch directly with everyone who is eligible.
Look out for further updates across our social media channels in the coming days, but for now there's just one thing left to say... Thank you!